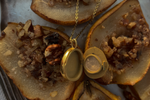 Short answer: class and love together in a piece. 
You know, nothing adds an extra sparkle to the holiday season like embracing festive traditions, whether those be wearing a cute ugly Christmas sweater, or sitting down to watch the classic Home Alone on Christmas day. But a beautifully classic piece of jewelry can have a similar effect, too - especially if it has a special meaning to it. 
That's where the locket necklace comes in. What makes it the best Christmas gift ever? Keep reading to find out. The locket necklace might seriously have everything you didn't know would make the perfect jewelry gift... until now. 
What does a locket symbolize?
Even though the locket necklace is always meant to hold something special, it doesn't necessarily mean it has to hold a picture or a portrait. Actually, if we look up the word "locket" in the Merriam-Webster Dictionary we'll find the following definition: "a small case usually of precious metal that has space for a memento and that is worn typically suspended from a chain or necklace." It could be a love letter, lock of hair, a prayer or wish, a music box, medicine, herbs, dry flowers, perfume scents, good-luck charms, or, of course, energy crystals. 
Its symbolism can change depending on the style, the occasion, or what it's inside the jewelry piece. Yet, lockets always represent love regardless - love for a friend, a family member, a lover, or self-love. In addition, it conveys a sense of magic and mystery that will not go unnoticed by anyone. People can even use them to mourn a loved one, show loyalty, keep a loved one close or honor a friendship.
The history of the locket necklace
Lockets are timeless charms that comfort heavy hearts and celebrate the bonds of love throughout history. On that note, isn't the Holiday season the personification and celebration of love? Being all about tenderness, adoration, and legacy? So it's a beautiful locket. 


Jewelry lockets can make us dream and sometimes even imagine a romantic and dramatic scene such as a couple separated by a heart-breaking circumstance with only a locket as a remembrance of each other. Well, while this might have been the case for many lovers (because they are indeed sentimental jewelry pieces), the fact is that the locket's origins might not be as romantic as one might think.  


It's thought the lockets evolved from the Middle Ages' amulets and pendants. The first lockets held herbs or medicine, some held perfume to help mask odors arising from less-than-thorough hygiene, and some even held poison. So many stories, but there is always a locket in them…


They did quickly evolve into mementos though and one of the earliest known examples of a locket with a picture in it is the locket ring of Queen Elizabeth I. It dates from 1575 and contains a portrait of herself on one side and her mother on the other - it's said she has never taken it off. 
In the 18th century the lock of hair became a visible part of the jewelry, often curled or braided. It was appropriate for young lovers to exchange locks of hair as signs of their affections (if you read the Sense and Sensibility novel from Jane Austen you might have noticed this happening). It wasn't until the Victorian era though that lockets of glass also became popular. The hair could be seen inside without needing to be opened, and it was often plaited or woven to create a design, rather than being hidden away.
The Industrial Revolution, the advances in technology, manufacturing, and widespread photography changed everything. Documenting people and moments in time became easier with each passing year and even though after the war lockets were considered out of date, today, they're back in fashion. How could they not? There's something special about wearing a cherished piece close to your heart.
Certainly, we can all agree that lockets - especially locket necklaces - hold a meaningful place in history and people's lives. They are sentimental pieces, once used by women to hope for the safe return of their lovers, or used by men in battles as a reminder of home. Each one of them has a history and personal story to it that you can pass onto the next generation. That's the fun and beauty of it: lockets are the perfect heirloom, making it the best Christmas gift ever. 
The Good Vibes Locket 
Finding a meaningful Christmas gift is not easy. We live in a time and age where fast fashion prevails, consumerism is increasing, and we are swayed by information all around us, especially during the holiday season in which the most asked question becomes: What makes a perfect Christmas gift? And the hassle of finding the perfect one began. People rush in and out of stores, browsing around, not really knowing what they are looking for. 
In the midst of it all, we forget about the meaning and essence of the gift. When selecting it, think about something that could be cherished forever, with a unique touch to make the person feel extra special. A good vibes jewelry locket necklace has it all.
The Good Vibes Locket works as a token of celebration and intention. What makes it so unique though? - you ask. It was created as a reminder of your "me time", it's about celebrating yourself. It comes with precious stones that you can add to it to boost the energy you need the most. Like they say: a crystal a day keeps the bad vibes away. And let's be real, isn't self-care and good energy all we need these days? It will become even more personal if you custom design it, having it engraved with a date or a special message. 
About the Crystal Vibe 
Don't you think that everything looks better when you have an amulet that helps you set the right vibe throughout the day? As we've said, our Wonther Good Vibe locket has unique stones that you can add to your locket depending on the energy you (or your loved one) might need. 
If you are looking for a powerful crystal, malachite is your stone. It has been said that malachite puts you on a path of success and prosperity, it radiates protection, leadership, and confidence (a powerful, positive, and energizing vibe). 
If you are looking for a healing crystal, lapis lazuli is your stone. It's said to sharpen your intuition and guide your desired path. You can even sleep with this crystal because it's said that it can induce a peaceful rest. Pick up the stone, set your intentions for a good night's rest and put it under your pillow, or just sleep with your Good Vibes Locket on.
If you are looking for a calming loving energy crystal, rose quartz is your stone. It's a great crystal for practicing gratitude, it helps you resolve issues regarding self-love and acceptance, and it's also used to attract love. 
If you are looking for a feminine energy crystal, moonstone is your stone. It represents sensuality, fertility, and motherly protection; it's even used by many women to help during pregnancy and the menstrual cycle. Its power can nourish and awaken your feminine energies, while re-energizing both mind and body, washing negativity away. 
Now that you've been introduced to the beauty of the locket necklace jewelry piece and the wonder of the crystals, we hope to have somehow lightened this special (but also stressful) task of Christmas gifting. Always bear in mind that this is a time to have fun, celebrate love, and be close to people dear to us above anything else. :)