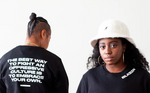 Image by Resistance Fashion
February is dedicated to Black History, honoring the struggles, but also celebrating the triumphs of African Americans through the history of the United States. Even though it started in the US, now it's also honored in Canada and in several other countries such as Ireland.
Think about this: if history is only occupied by around 0,5% of female features, what about Black women features? History has deprived us of women's history, achievements, amazing bravery, inspiring role models, because mostly it has been written by men.
At this point great minds such as Professor Gina from New School who has been doing an amazing job, finding, and recording stories from around the world that should be of public knowledge, thanks to the global project of feminist historical recovery of earlier women, are starting to bring light to great women's achievements.
Fortunately, we continue to meet new heroes that are creating a path, not just for women, but also for Black women. In fact, we all need role models and inspiring stories to help us overcome the day-to-day struggles we face, and to inspire you and other women, we will feature some great black women-owned businesses from all sorts of areas and times and sizes.
Madame CJ Walker | Madame CJ Walker
Madame CJ Walker was the first big Black woman-owned business. You can find an interesting series about it here. Born Sarah Breedlove, Madame CJ Walker once said: "Don't sit down and wait for opportunities to come. Get up and make them!". Madame CJ Walker died in 1919, and she was the first self-made millionaire in the United States. She created an empire of hair care products targeting other Black women that faced the same problems as she did. She became a philanthropist, a political activist and used her fortune to fund scholarships and donate part of her wealth to the Black YMCA and other charities.
Maggie Lena Walker | St. Luke Penny Savings Bank
She once said, "I was not born with a silver spoon in my mouth, but instead, with a clothes basket almost upon my head." Maggie Lena Walker made history when she became the first woman to own a bank in 1903. On top of that, she was a Black woman. In 1903, she established the St. Luke Penny Savings Bank, a catalyst for economic advancement in the Black community and one of the  oldest black-owned banking institutions in the United States.
Beatrice Dixon | The Honey Pot Company
Beatrice Dixon started her company with a $21,000 loan from her brother and co-founder, Simon Gray. She spent three years working a full-time job to support herself while launching The Honey Pot Company. Eighteen months later, in 2013, she brought The Honey Pot Company's natural wash to a hair show in Atlanta, selling 600 bottles in one weekend.
The Honey Pot Company has expanded from the first product Dixon conceived, The Normal Wash, to a full line of products ranging from wipes to menstrual cups to postpartum healing pads. 
Aurora James | Brother Vellies
Aurora James founded Brother Vellies in 2013 with $3,500 from her savings account, started at the flea market in the Lower East Side of Manhattan. Brother Vellies partners with artisans across several African countries and Mexico to create mostly shoes. Founder of not just a beautiful shoe brand, she's also the recent founder of the 15% pledge, a pledge that defies large-scale companies such as Sephora or Net-a-Porter to have at least 15% of products on their shelves from black-owned brands - a bid to sync shelf space with the corresponding population data.
Lisa Price |Carol's Daughter
Lisa Price is the founder of Carol's Daughter , a line of homemade beauty products that she started in 1993 in her Brooklyn kitchen, with just $100. Lisa Price started to sell her products at church flea markets and street fairs, and today Carol's Daughter is a multimillion-dollar firm. Lisa Price said: "I was not born with a lot of money. I'm just an average woman who listened to the universe when it told me to believe in myself. I hope that others will learn from my story and find the beauty in themselves. It is inherent in all of us."
Dyandra Raye | Jo-Anne Vernay
Dyandra Raye created a luxury footwear brand made from pineapples. First, she worked in the industry for 10 years, and at a certain point in her life she became vegan and started to develop an interest in sustainable fashion. After noticing a void in the market when shopping for herself and for other conscious clients for affordable luxury vegan shoes, Jo-Anne Vernay was born.  "Things will all work out as you dream my love, just practice patience and continue to work hard!".  
Aminah Abdul Jillil | AMINAH ABDUL JILLIL
Aminah was a dancer for Britney Spears and now she's the owner of her own successful shoe brand. The Las Vegas-based designer created her brand in 2012, when she decided to pursue a fashion career full-time. She started with the savings she had, and it was just herin the beginning. Today the brand ships to more than 50 countries, with the U.S. ranking as its biggest market.
Lisette Scott | Jam and Rico
Lisette Scott, born in New York, loves the colors of her culture. With immigrant grandparents from both islands of Jamaica and Puerto Rico, she was always curious about their upbringing and traditions. Once she got older, she visited those islands, and became even more fascinated and inspired to create and design her brand. She created Jam + Rico (Jamaica and Puerto Rico). "Never doubt the possibility of anything!" Her jewelry brand has been featured in magazines like Essence and Vogue to name a few. 
Candance Reels | Female Collective
Candance Reels was born in LA, she's an activist, social media curator, entrepreneur and self-care advocate and the founder of Female Collective, an intersectional platform that brings women together through empowerment and self-love. This is more than an Instagram account, it's an online platform that celebrates, empowers, uplifts, and supports all women. This platform was featured in Who What Wear, Cup of Jo, HuffPost Women, Bustle, I-D Magazine, Junior High Magazine, and FGUK magazine to name a few. Candace said: "There will be tons of challenges and traumas, but that will help you grow into the person you are meant to be."
Rosie Myers | Resistance Fashion 
Right after Rosie witnessed the tumult of 2020, she created her clothing line named Resistance Fashion, to celebrate and uplift Black people. Her recent shop features t-shirts and sweatshirts with strong phrases such as "The best way to fight an oppressive culture is to embrace your own."
Evódia Graça | Evódia Graça  
Evódia Graça was born in Cape Verde, and in 2016 was selected as a Young African Leader, by the former President Barack Obama, through the program Mandela Washington Fellowship for Young African Leaders. She later became a Transformational Coach Specialist in Image and Female Leadership and she created her own work methodology dedicated to helping leaders and executive women who wish to be confident and assertive in their field. She also founded @inspiringwomentalks, which seeks to empower brands owned by women.
Leila Monteiro | SABiiNA DESIGN
Leila Monteiro was born in Cape Verde, and she is the Founder and Creative Director of the SABiiNA DESIGN Atelier based in Lisbon. She designs timeless interiors with an identity. For over 10 years she worked at a multinational telecommunications business and specialized in interior projects. With most projects outside Portugal, she has worked in several cities around the world (Luanda, Casablanca, Rome, Paris, Madrid, and Barcelona). Leila believes that "A good design can enhance a life".
⠀
Congratulations ladies, on all your success and inspiration!