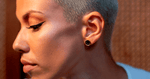 A jewelry piece is a beautiful and memorable gift for any occasion, even better if it has a meaning behind it. All our pieces have a special meaning and all are sustainable and ethical, so they are not just beautiful, they are made and come from a beautiful place.
We believe in the law of cause and effect.
Every cause has its effect, every effect, its cause. There's no such thing as chance. It's the Law of Laws. It's powerful.
You get back what you put out. It's like a boomerang.
You throw it and it comes back.
If you need more happiness and it's never too much, these happiness earrings are the ones that you can wear every day,
and always remember that you need to do more of what makes you happy. They are a daily reminder of that.
Family is always there for us, so, as a homage that they are always in our hearts or a goal in life, this necklace is a beautiful way of never forgetting about the fundamental stones in life.
The perfect gift can be a letter because it usually means the initial of someone's name.
But it can also be gifted with another special naming in mind.
For instance, the letter M can also be a great gift for a Mother, or a W can be a beautiful gift for a Wontherwoman.
An initial letter is a timeless piece, that will look beautiful on anyone.
Between the lucky numbers 1 and 9, there is a full spectrum of energies.
For instance, in numerology, number 2 is known as a supremely feminine force, one that represents both grace and power.
Personalization and custom design of jewelry pieces
If you wish to personalize one of our pieces or just want to create one of your own, let us know. We might just surprise you with something extraordinary.
Drop us a message and let us know what's your idea - we promise we'll do everything to make it happen! 
Let us know
!